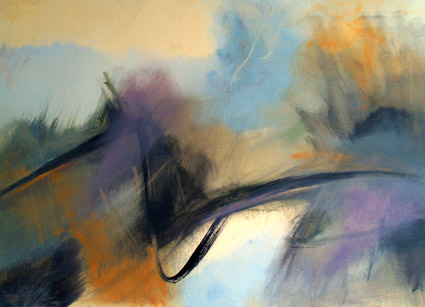 PAINTING

It is not easy for me to make a distinction among the languages I use.  All is painting, for me, even print-making and photography, but certainly all  was generated here, in a phisical relationship with a matter that develops in image. Matter has its own inner power which escapes the artificious boundaries of sign. I became conscious of this very soon, when working endlessly on still-life compositions the first informal paintings arose. Origin (2003), is indeed a composition with  coffeepot, pottery, some fruit and artichokes.
I inserted in an already trodden road, conscious that all has already been done before and therefore with the humbleness of a person who wants to learn from the masters. I never considered necessary to create something absolutely 'original'. What I really care of is to be able to  sharpen the instruments to express my vision of the world. It is a poetic and positive vision, notwithstanding all the difficulties and sufferences - almost an act of faith, I would say - in an essential beauty and e bounty of life.
It might seem strange that lots of 'pictorial' works are realized with a non-conventional matter such as bitumen, but there is a deep need in its choice. There is nothing more proper to tell about a time before the time, when chaos is shaped and universe is generated to life.