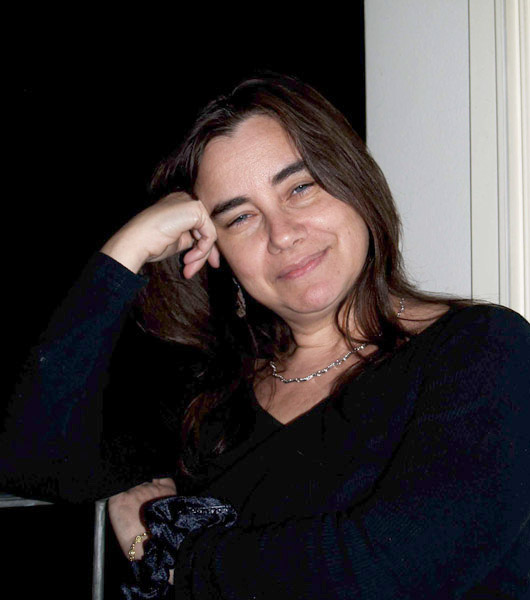 Born in Legnago, near Verona in 1963, she lives near Brescia from 1989. She took a BA in Foreign Languages and Literature at Verona's State University. Here she attended the lessons of Roberto Sanesi about T.S. Eliot's poetry. She taught English for Artistic Communication at L.A.B.A. Academy of Fine Arts in Brescia from 2002 to 2008. She is one of the founders of a Cultural Association (Amici della L.A.B.A.) which develops various activities in order to promote an approach to art on various levels.
After having attended various drawing courses held by the artist Rinaldo Turati - from 1997 to 1999 - she enrolled in the evening free course of painting at LABA Academy (2000). She finally enrolled in the regular courses of painting and visual arts at the L.A.B.A. academy under the direction of Rinaldo Turati (2001 – 2005). She took a BA magnam cum laude in painting in 2007 presenting a dissertation about Abstract Lyricism in Painting and The Sense of Poetry.
She recently left her academic teaching in order to dedicate more constantly to her artistic research and to activities of education and promotion connected to the art field. She organized didactic labs of contemporary art for children at Nadro's Museum (the museum connected to the Park of the Rock Engravings in Valle Camonica). She also held theoretical lessons about some artists and practical ones about pictorial techniques in various schools. She assisted dr. Enrico Napoli in the realization of a series of conferences about some Italian Renaissance Artists (2008).
In Summer 2008 she took part to a project proposed by the Cultural Association Amici della LABA - Contemporary Art in the UNESCO Human Heritage. The project consisted in a two weeks workshop to which students from different Academies had been invited to work and live together in Valle Camonica (Ceto). To this pilot edition had been invited students from an Italian and a German Academies.
She wrote the presentation to the poetry volume (Latcho Drom) by Enrico Napoli, published at Verona in April 2009 from Buonaccorso Edition.
She lives and works near Brescia.